Dutch designer Tjeerd Veenhoven likes experimenting the materials and production techniques that yield to clever, innovative and sustainable solutions which bring a new perspective to everyday objects.
One of his latest designs is the "Carbon Bike".
Carbon framed bicycles are well-known to provide a better strength vs. weight ration, however they require a high-tech production which is an expensive process, whereas "Carbon Bike" is simply made by; first mounting the parts of a bike into a jig and then drenching running carbon wires in epoxy resin between the parts. After a while the resin sets and the parts are united again. He says that "This project was partly conceived to react on the so many beautiful bikes that are designed and produced at this moment. They all are real pretty but some or most lack any innovation."
Carbon Bike is selected for the Dutch design exhibition "Connecting Concepts" and will travel around the world for the next 2 years.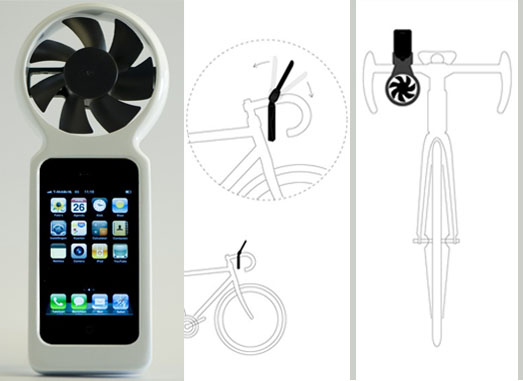 The other clever design by Veenhoven is iFan. The idea is to charge your iPhone with the wind by attaching a modified computer fan to a custom rubber case that has to be slid around iPhone.