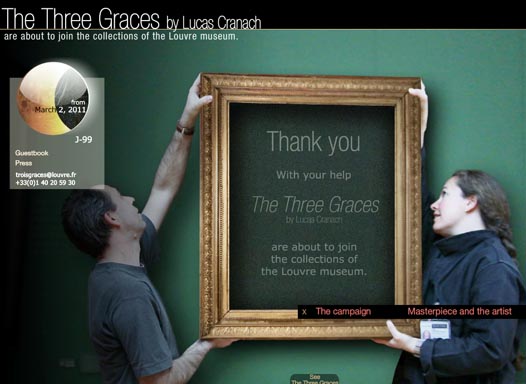 On November 13, the Louvre Museum launched a fundraising campaign open to everybody: one million Euros was the missing sum to complete the budget needed to purchase "The Three Graces" (1531) by the German artist Lucas Cranach. The deadline was January 31st 2011, and only three quarters of the funds were available thanks to two corporate patrons and the museum's acquisitions budget.
The fundraising, entitled "Tous Mecenes" (All patrons), was launched on the Internet and the mainstream media in France. It was the first time that the French museum launches a broad appeal to gather the missing funds. More than 5000 donors have taken part in the campaign, and in 40 days the amount was gathered. In January the work became part of the museum collections.
Without doubt, the campaign success is due to the Internet. Previous operations of this kind have been made, but none had been successful in such a short time. The first to launch this media operation was the Tate Gallery in 2008 for the purchase of "The Blue Rigi" by Turner.
"The Three Graces" will be exhibited from March 2 to April 4, 2011, in a dedicated gallery within the Louvres, and all the donors names will be listed. The masterpiece will then become part of the Louvre's German Renaissance paintings collection.