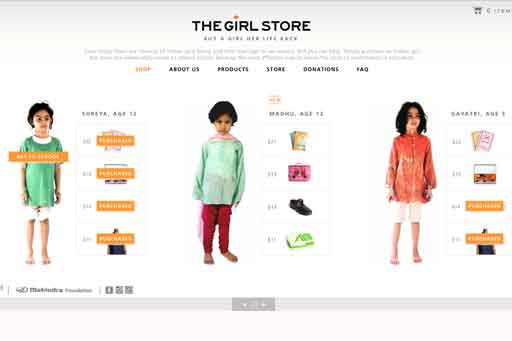 In many parts of India, especially in rural areas, the tradition of stubborn preference for the male child is still dominant. Little girls are considered the worst gift from destiny. They grow up in a different system, they stop going to school very early to work at home. They are often sold into marriage or for sexual slavery.
Few months ago the non-profit organization Nanhi Kali built the first e-commerce "The Girl Store" where users can buy items (max for 22$) to help young indian girls . The site gives  people the opportunity to fight the bad tradition by sponsoring the education of young girls via the simple click of a button (and in a physical space at 48th and Lexington streets in New York).
The website highlights stories of dozens of girls who have benefited from their efforts. It also support girls by buying pencils, math sets, lunch boxes, and uniforms. Every purchase comes with a tutor to close gaps in the girl's education due to being kept out of the classroom for family obligations. Just $65 is enough money to keep a girl in grade 1–7 fully supplied for an entire year, because the most effective way to break the cycle of exploitation is education.