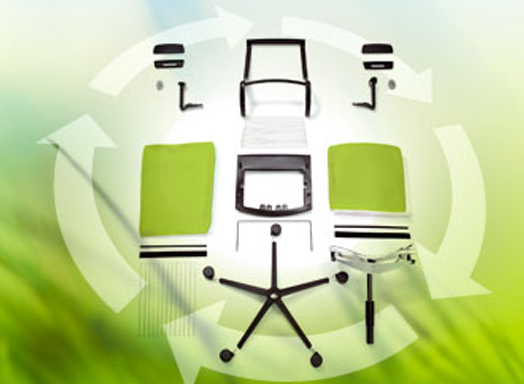 I think it is never enough when we speak about behaviour change in manufacturing products. Resuming from my last post about Steelcase I would like to introduce one of their most interesting projects: The Think chair.
In 2000 Steelcase was the first office furniture company to apply the Life Cycle thinking in the design of new products. Understanding how a product is made, they can identify opportunities to make it use less energy and reduce its waste and environmental impact.
Since 2000 their internal eco-design policy have been leading them to:
(1) Ensure designed products contain the highest possible recycled content; (2) Reduce the number of components for quick and easy disassembly and effective recycling; (3) Ensure the absence of heavy metals or harmful substances (no PVC, Chrome 6 replaced by Chrome 3); (4) Shrink packaging volumes to save fuel and reduce CO2 emissions; and (5) Ensure the recyclability of products (materials choice and design for disassembly).
With the Think chair, Steelcase has proved all their design principles, as they say, "Intelligent product design requires incorporating environmental thinking from the beginning of a process. We know that the only way to provide the best products in the world is to ensure that they're the best products for the world. That's why every step of the way – through design, manufacture, delivery and product lifecycle – we consider the impact of our work on the environment and uncover opportunities to make things better."
The Think chair is a chair thoughtful enough to measure, and minimizes, its lifelong impact on the environment.
The Think chair is the first product to ever receive Cradle to Cradle™ Product Certification from McDonough Braungart Design Chemistry (MBDC) and has Gold-level certification. The Cradle to Cradle™ Product Certification evaluates a product for human and environmental health impacts throughout its lifecycle and its potential for being truly recycled or safely composted. Certification of a finished product also requires the evaluation of energy-use quantity and quality (i.e., relative proportion of renewable energy), water-use quantity, water-effluent quality, and workplace ethics associated with manufacturing.
At the same time, the Institute for Product Development in Denmark conducted a complete Life Cycle Assessment, evaluating the Think chair's lifelong impact on the environment – from materials extraction through production, shipping, use, and end of life. The results of the Life Cycle Assessment are reported in the Environmental Product Declaration (EPD), created per ISO 14025. The EPD shows the Think chair's impact on environmental factors like global warming, smog, resource depletion, and waste.
The Think chair is the first product ever to be level™ 3 certified to the BIFMA e3 sustainability standard. According to BIFMA, the level™ conformance mark ensures a comprehensive, independent and impartial assessment of the environmental and social impacts of a product's manufacture. Level certification makes it easy to identify products that have been evaluated against a consensus-based, multi-attribute sustainability standard.
A few more environmental facts about Think:
Up to 98% recyclable by weight; Disassembly for recycling takes about five minutes using common hand tools (hammer, screwdriver, etc.); Up to 37% recycled content.
If you are still not convinced or want to investigate more about the environmental considerations of the Think chair, more information are available in the Think Environmental Brochure.