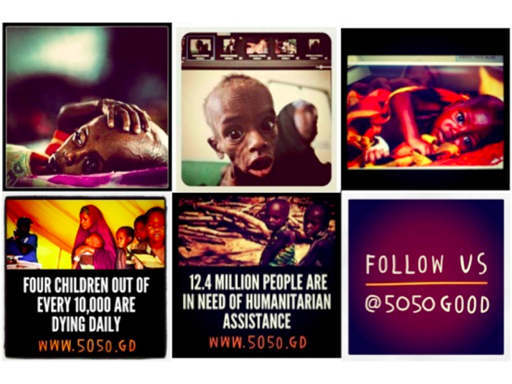 Today it is not so easy to find an innovative good way to organize a fundraising campaign,  50/50 Make or Break project has done it.
The starting point is a question about how to support more than one idea, and the answer is a collaborative fundraising experiment, a collection of extraordinary digital projects from all over the world.
The brainchild of social innovation lab Good for Nothing, in collaboration with Made by Many conceived the platform 50/50 to launch 50 projects in 50 days, projects that support a cause. They asked to dozens of creative individuals or teams of makers to help them raise some money by making little bets. The reason for all of this is that there is a huge need: the UN has declared a famine in East Africa and it's massive:
A child is dying every six minutes
12 million people are seriously at risk
It's the worst famine anywhere in the world for 60 years
The scale of this is utterly frightening: five times more people are at risk than those who died in all the recent tsunamis and earthquakes put together (Indonesia, Haiti, Pakistan, Japan) – but less than 20% of the money needed
No-one is talking about it – partly because there are few images and partly because we're preoccupied with our own economic stuff.
"There's nothing in the world worse than watching your own child die in front of your eyes because you cannot feed him" – Ban Ki Moon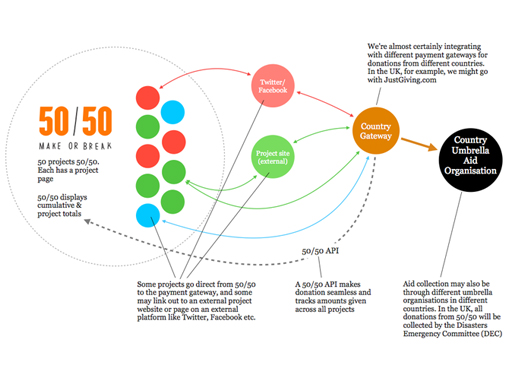 50/50 hope these projects will be weighted towards 'making' – making playful, shareable things that engage people in a more active and – dare I say it "participatory" way than simply asking for donations.
Help put more meals on the table by snagging a trendy UNICEF and BBH-designed Threadless tee, sponsoring one planner's quest to eat like a refugee for a month, or even downloading your favorite songs from iTunes through the buyTunes project… There are some amazing projects. Projects of every size and type, and there are still projects coming… The best part is that all funds go directly to UNICEF and the promise of a better future.
This is what you can do:
Images: Courtesy of 50/50.gd Project