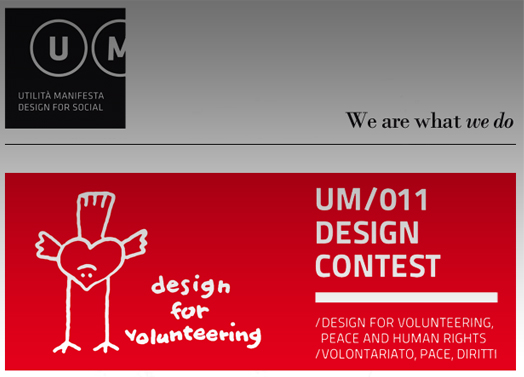 "We are what we do" is the slogan of Utilità Manifesta, an association of social promotion based in Terni – Umbria, composed of a group of graphic designers who are actively engaged since 2004 in raising awareness on social issues, and in promoting human rights through graphic and design projects.
Their modus operandi is to design communications through a strong ethical awareness and a great sense of political, cultural and social responsibility.
Their way is innovative and their research is multidisciplinary. Comparison and exchange are the basis of carrying out projects focusing on important topics of daily life: responsability, autonomy, children's rights, immigration, the planet etc. The purpose is solidarity and cooperation. They collaborate with networks and institutions and try to reach the greatest number of people. They rely on social design to make visible and raise awareness of injustice, inequality and indifference.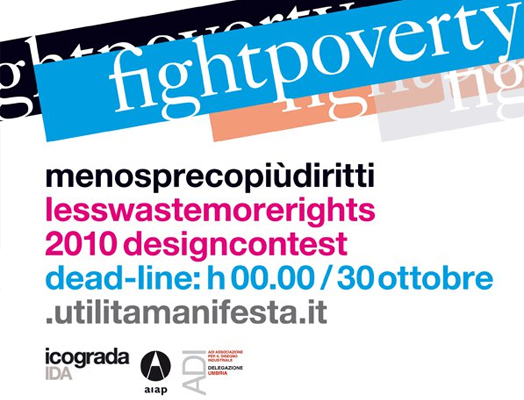 The association is sponsored by AIAP, the Italian Association for Visual Communication, Municipality of Terni, Terni Province, together with other realities that support their activities: Emergency, Ministry of Justice, Legambiente, UNICEF, etc.
The result of their activities is evident, in 2007 the association was awarded the Sappi Prize for "Multiculture – A piece for the new society," a campaign that focused on the socio-cultural integration of immigrants. The following project was developed after the earthquake in Abruzzo Italy, they created a special interior and exterior signage for the city tent of Poggio Roio – L'Aquila.
In 2010, the association, which until then had developed graphic projects, decided it can do more and added product design projects. "Fight Poverty" launched its first international competition on the theme "less waste more rights", supported by Fedrigoni, Graphic Masters and ADI, Industrial Design Association delegation from Umbria. The result is ten finalists ex aequo for each of the two categories, Graphic Design and Industrial Design (the images are shown in the gallery). In addition, there are twenty other worthy projects, and at this point, we refer to the association's website, where you can find all the projects.
There you will realize how a good design is a winning weapon to raise and improve awareness: the social design has no boundaries and can give a lot in difficult situations.
One last thing, the call was published for the contest of 2011 dedicated to volunteering, the deadline for submissions is on October 30th.
Images: Courtesy of Utilità Manifesta Association