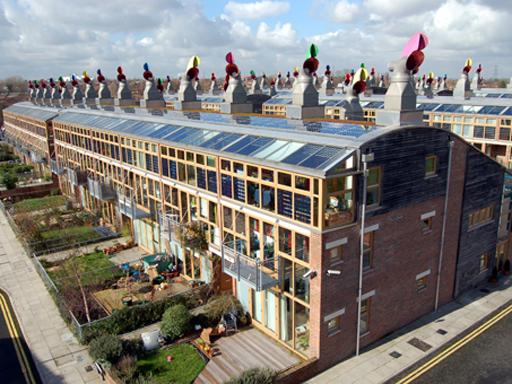 ZEDfactory is the architects studio of BedZED, the UK's first and largest Zero Energy Development. Bill Dunster established ZEDfactory in 1999.
"Back in the mid 1970s, it was clear that things had to change," says Bill Dunster; "Oil and gas reserves were running low, fuel prices were going up every year and the population was growing. I felt that there was no time to wait, so since the early 1980s I have been designing super energy efficient, low carbon, solar housing. We need to get the basics right, and as buildings, whether used as homes or places of work, have a powerful influence on the quality of life of individuals and communities, they have a huge role to play."
Completed in 2002, BedZED, Beddington Zero Energy Development, is one of ZEDfactory's biggest UK projects, an environmentally-friendly housing development near Wallington, England. A joint project with BioRegional, the Peabody Trust and Arup, BedZED is designed to use only energy from renewable sources generated on site, including 111 m2 of solar panels. The houses face southto take advantage of solar gain, are triple glazed, and have high
thermal insulation.
The project offers a mix of residential and office space, with the apartments finished to a high standard to attract the urban professional.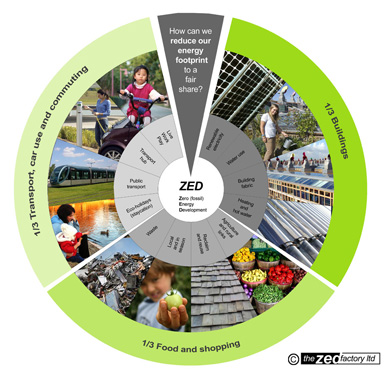 ZEDfactory believe in a four step approach to creating a Zero Energy Development.
Analysis:
We use sophisticated building physics models to evaluate each site's specific needs and strengths.

ZEDstandards

:
Define a building's performance from the start. What should it provide, what should it consume,what impact should it have?

Load Reduction

:
The priority is to reduce the amount of energy buildings use.

Microgeneration

:
The building should supply its own energy, without the need to rely on fossil fuels or nuclear energy.
As result "BedZED is a microcosm of how the world could be run, with a little imagination and creativity," says Bill Dunster. "It is energy efficient and water efficient, with most rain water falling on the site being collected and reused. The building materials used were selected from renewable or recycled sources within 35 miles of the site, to minimise the energy required for transportation. Because of its location, people coming into the complex to work are going against the flow of usual commuter traffic. Electricity is provided in parking spaces for charging electric cars, and residents are encouraged to use the on-site car pool booked on the internet."
In 2010 The company has been invited to take the BedZED concept to the Shanghai Expo as the London example of Urban Best Practice. ZEDfactory is designing and supervising
the construction of two permanent mixed-use zero carbon urban blocks in Shanghai.
Like BedZED and ZEDfactory's subsequent projects, the zero carbon blocks will use a combination of state of the art energy efficiency and building integrated renewable energy technologies, without resorting to offsetting or remote generation.