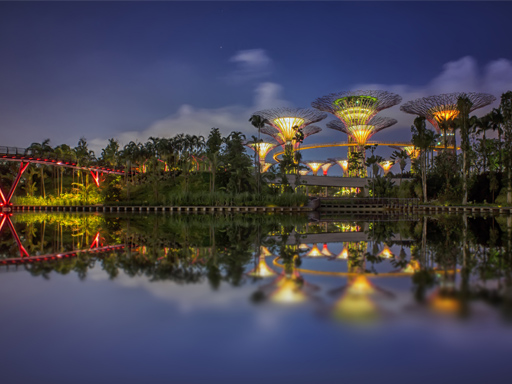 Gardens by the Bay is a lively and vibrant garden that showcases the best of tropical horticulture and garden artistry with spectacular vertical gardens. It is an integral part of a strategy by the Singapore government to raise the quality of life by enhancing greenery and flora in the city. Ultimately, the site wilh total 101 hectares comprises three distinct gardens – Bay South, Bay East and Bay Central. An international competition was held for the design of the master plan in January 2006. Two firms, Grant Associates and Gustafson Porter, were eventually awarded the master plan design for the Bay South and Bay East Gardens respectively.
Bay South Garden by Grant Associates is the largest and more interesting of the three gardens. The masterplan takes its inspiration from the organization and physiology of the orchid, the national flower of Singapore and is the most cosmopolitan species of flowering plant in the world. The concept of the project is based on a heavily organic approach to the design and detailing that had to be reflected in each aspect of the project. Architectural structures are combined with a wide variety of horticultural displays, daily light and sound shows, lakes, forests, event spaces and a host of dining and retail offerings.
The orchid takes root at the waterfront (conservatories), while the leaves (landforms), shoots (paths, roads and linkways) and secondary roots (water, energy and communication lines) form an integrated network with blooms (theme gardens and supertrees) at key intersections.
The two Cooled Conservatories, the Flower Dome and the Cloud Forest, are the jewels in the crown of the gardens, appearing like an exotic outcrop on the edge of the Marina. As iconic features of the Gardens, they showcase the application of sustainable building technologies and tell the story of plants and their intimate relationships with man and the ecosystem.
The Supertrees are a fusion of nature, art and technology. They are at one level landmark features and amazing vertical gardens, at another are embedded with sustainable energy and water technologies integral to the cooling of the Cooled Conservatories. There are a total of 18 Supertrees ranging from 25 to 50 meters in height.
There are also two themed gardens, "The Heritage Gardens" reflects the history and culture of Singapore's main ethnic groups as well as the city-state's colonial heritage, and "The World of Plants" forms the second collection of gardens and is based on the theme "Plants and Planet" and showcases the biodiversity of plant life on our planet. Both providing a mesmerizing experience for visitors.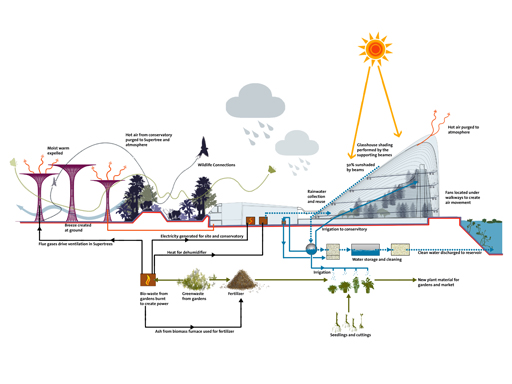 The Gardens have been designed with the environment in mind, underlying the concept of Gardens by the Bay are the principles of environmental sustainability. Much effort was made to plan and design for sustainable cycles in energy and water throughout Bay Gardens adopting environmentally technologies.
Photo credit Darren Chin courtesy Grant Associates