We do Research & Design projects about creative and innovative practices in CITIES and CRAFTS.
We share examples of sustainable creative innovations in Cities, Architecture, Design and Crafts.
Read SustainableIdeas MANIFESTO
Team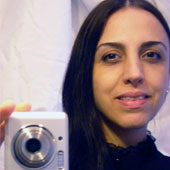 FATINA SAIKALY _ Founder
Fatina
studied and practiced Architecture in Lebanon, then moved to Milano where she did her PhD in Industrial Design about the methodologies and methods of design research. She is co-founder and managing director of
Co-Creando
. Inspired and influenced by the writings of Victor Margolin on Social Design, she started Sustainable Ideas to develop research and design projects that address social challenges with a particular focus on cities and crafts.
ISABELLA MARA _ Web Designer and Manager
Isabella Mara is a graphic & web-designer, visual artist and freelance curator. She studied Interdisciplinary Art at Kunstiakadeemia in Tallinn, and in 2006 she received her BFA from the Accademy of Brera. Then she took a Development Programme in Cultural Industries in Biella. She went from brushes, to collage, to computer. Currently she is based in Milano. She loves reading near watercourses and is trying to taste every kind of food in the world.
Lia is consultant in design driven innovation. She is lecturer at the Innovation Center of the Business School Fundação Dom Cabral and the Design School of Minas Gerais State University, Brazil. Currently she is visiting professor at the Politecnico di Milano, working on innovative collaborations with companies from emergent economies. She did her Doctorate on Innovation Management at the Universidade Federal de Santa Catarina (2005). She lived in Brazil, France, Portugal and Italy. Her book "Design and territory of origin: adding value to local products and identities" was published in portuguese in 2009 by Nobel Publisher. She loves to travel, know people and places, make new connections and learn new ways of seeing.