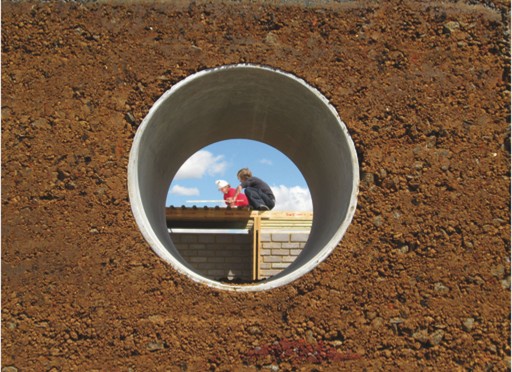 The Exhibition "Think Global, Build Social! Architectures for a Better World" is about contemporary architecture's social responsibility. Far beyond from "star architecture", the exhibition presents 22 examples of architecture projects that attempt to improve the living conditions of people in less privileged areas of the world.
The selected projects include schools, public areas and housing. The minimal financial expenditure, the collaboration with the future users, the incorporation of local building traditions and materials, and a great deal of initiative and creativity are the main characteristics of these projects.
The exhibition is enriched by the presentation of projects involving Austrian participation:
– The TU Vienna, through Peter Fattinger, is a pioneer in the area of university design-build studios;
– A laboratory at the University of Applied Arts in Vienna, headed by Baerbel Mueller, examines the spatial, infrastructural, ecological and cultural phenomena of sub-Saharan Africa;
– The Kunstuniversität Linz, with its project studio BASEhabitat, focuses on the utilization of alternative energies in regions with limited access to a public infrastructure;
– The architecture firm of gaupenraub +/- is developing a series of remarkable projects for homeless people in Vienna;
– The association s2arch, in the course of the last ten years, has carried out more than 40 social projects in South Africa.
The exhibition is held at the Architekturzentrum Wien from 15 March 2014 to 30 June 2014. It was jointly conceived by Architekturzentrum Wien (Az W) and the Deutsches Architekturmusuem (DAM). The Curator of the Exhibition is Andres Lepik. The Curator of the Austrian Focus and Project Head Az W is Sonja Pisarik.
Photos: 1: © a_kep Andreas Kepplinger 2: © Esteban Cadena 3: © Anna Heringer 4: © Patricia Porsch 5: © Pasi Aalto/pasiaalto.com 6: © Franc Pallarès-López 7: © Pez Hejduk