Reporting From the Front is the title of the 15th International Architecture Exhibition "La Biennale di Architettura 2016" taking place in Venice from 28 May until 27 Nevember. Directed by the Architect Alejandro Aravena (Chile 1967), winner of the 2016 Pritzker Architecture Prize, the Exhibition includes 88 Participants from 37 different countries, as well as 62 National Participations and a selection of Special Projects, Collateral Events, educational initiatives, and the Meetings on Architecture a programme of talks on the themes and case studies presented at the Biennale.
Alejandro Aravena's guiding idea for the 15th Architecture Biennale is that "Reporting From the Front should demonstrate what does it mean to improve the quality of life while working on the margins, in difficult circumstances, and in front of pressing challenges." Projects, events and talks focused on issues like inequalities, peripheries, crime, waste, traffic, natural disasters and segregation.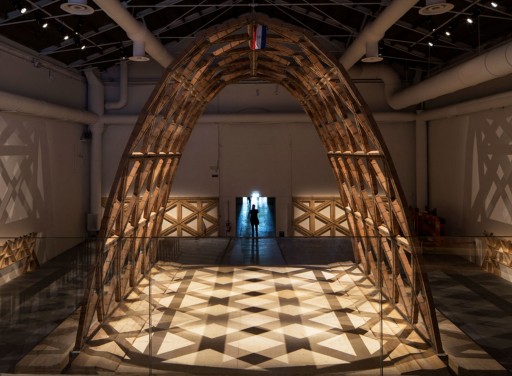 Awards
Spain won the Golden Lion for the best National Participation. The motivation according to the International Jury is the "concisely curated selection of emerging architects whose work shows how creativity and commitment can transcend material constraints."
Gabinete de Arquitectura won the Golden Lion for the Best Participant "for harnessing simple materials, structural ingenuity and unskilled labour to bring architecture to underserved communities."
Image 1:  © Andrea Avezzù: The opening rooms at Giardini and at Arsenale were built with 100 tons of waste material generated by the dismalting of the previous Art Biennale.
Image 2: © Francesco Galli – Courtesy of La Biennale di Venezia: Gabinete de Arquitectura.