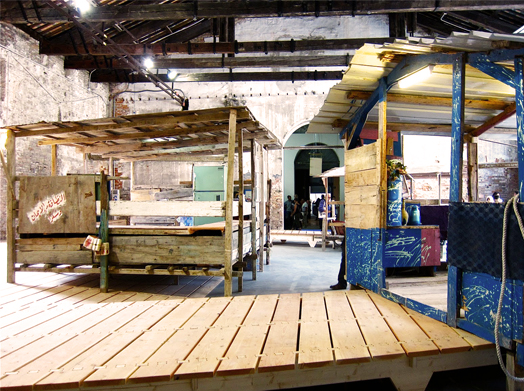 29 August was the opening of
the 12th Venice Architecture Biennale
. More than 13.000 people visited the international exhibition in the first 10 days. In the 28th of October the number of visitors exceeded 100.000, and a record of 7660 visitors last weekend, the 23rd and 24th of October.  After a series of Biennale Exhibitions directed by eminent critics or historians, this sector has once again been entrusted to an architect
Kazuyo Sejima
, a leading exponent of contemporary architecture. She is the first woman to direct the architecture sector of the Biennale.
People meet in Architecture
is the title chosen by Kazuyo Sejima. She wants the exhibition to be a reflection on architecture. She says "the twenty-first century has just started. Many radical changes are taking place. 
In such a rapid-changing context, can architecture clarify new values and a new lifestyle for the present?
" Sejima hopes the exhibition will be a chance for people "to experience the manifold possibilities of architecture, as well as to account for its plurality of approaches, each one of them being a different way of living."
The inaugural and award ceremony took place on August 28th in the Giardini. 
The International jury awarded the Golden Lion for the best National Participation to the Kingdom of Bahrain
. 
RECLAIM
is the theme of the pavillon, it is an exploration of the decline of sea culture in the Kingdom of Bahrain. The jury was particularly impressed by their choice: instead of including one or several of the Kingdom's vast urban developments, they exhibited "a lucid and forceful self-analysis of the nation's relationship with its rapidly changing coastline. Here transient forms of architecture are presented as devices for reclaiming the sea as a form of public space: an exceptionally humble yet compelling response to 
People meet in Architecture
." 
1
A curiosity: 
iBiennale
, the first iPad application dedicated to the Biennale, available on the AppleStore, passed four thousand downloads the first ten days, almost 500 new downloads everyday.
The Biennale will be open until the 21st of November.