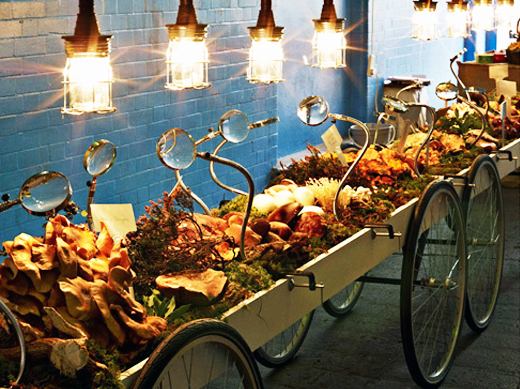 The London Design Festival, a nine days celebration of design, ended in September 26. The Festival is an alternative map of the city (where you can get lost!). It is a different way to enjoy London space and time, looking for places, ideas, tastes, shapes, thoughts on everything that surrounds us every day: from urban phenomena to charcoal for purifying water, passing, of course, every kind of sitting possible!
In the Brompton Design District, a new design area of London, the company Studio Toogood presented Super Natural, a project dedicated to foraging, collecting and observing in the English countryside. Visitors experienced an installation of wild mushrooms picked by New Forest forager Mrs Tee. Visitors could select their mushrooms that were then cooked and prepared at The Brambles Cafè, a temporary eatery by La Fromagerie in collaboration with Arabeschi di Latte. They offered visitors a menu prepared using wild mushrooms and seasonal ingredients sourced from the countryside. There was a unique scent of woodland in the air, an olfactory trip through woods, tree bark, wet lichen, and fallen leaves. The scent was developed byFrancis Kurkdjian specifically for this space and event.
In this English countryside environment, Studio Toogood launched Assemblage 1, their first collection of furniture, lighting, textile and bags. They mainly used wood, brass and stone with an emphasis on English-sourced materials and English craftsmen including stonemasons, carpenters and metalworkers.