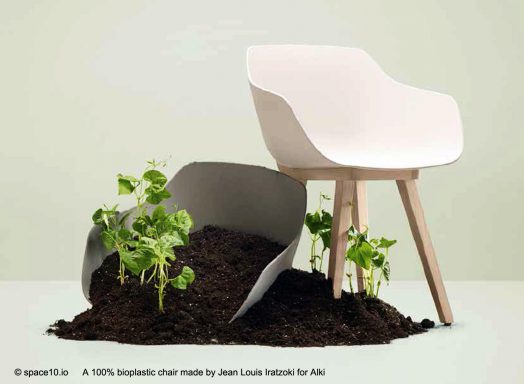 "Imagine: Exploring the Brave New World of Design and Manufacturing"  is a recent publication by SPACE 10, a future-living lab based in Copenhagen. The lab brings together radical thinkers and experts from around the globe to ideate, prototype and design new concepts for a more sustainable way of living. The lab works on finding new ways to design, produce and consume things in the future by rethinking how we do it today.
The editors argue that the current traditional industrial model of production, based on extraction, production, distribution, consumption and disposal, is reaching its physical limits. They indentified five factors that are converging and will enable us to move beyond that model. A better model for people, business and the planet, a circular one.
These factors are:
THE FLEXIBLE FACTORY
Digital fabrication machines are 3D printers, laser cutters, and CNC (computer numerically controlled) milling. They turn digital designs into physical objects with the click of a mouse. These tools are increasingly more accessible, cheaper and easier to use. The opportunity they represent is that the factory of tomorrow could be in our neighbourhood or even in our homes.
THE INTERNET
The internet is permitting us a greater autonomy over our lives. It empowers us by learning and practicing new skills, and sharing knowledge, ideas, opinions, content and consumer goods. It represents the opportunity to connect instantly to local and global networks wherever physically we are.
THE MATERIAL WORLD
Innovation in material science and technology are allowing the emergence of biologically engineered materials, and materials reclaimed from waste. This is leading our system of production and consumption to the opportunity of shifting from "doing less harm" to "leaving things better".
THE NEW ASPIRATIONS
Our consumption habits are shifting towards more responsible and sustainable attitudes. We are more concerned about issues such as durability, reuse, and waste. This is transforming ownership into new opportunities such as sharing, borrowing, and renting everything from clothes, to cars and homes.
THE CIRCULAR ECONOMY
The circular economy represents a regenerative model of production and consumption. It produces little or no waste, where material can be re-used or enter the biosphere. It uses renewable energy. This model represents an opportunity to reduce waste and pollution and according to Accenture, it will generate more economic advantages.