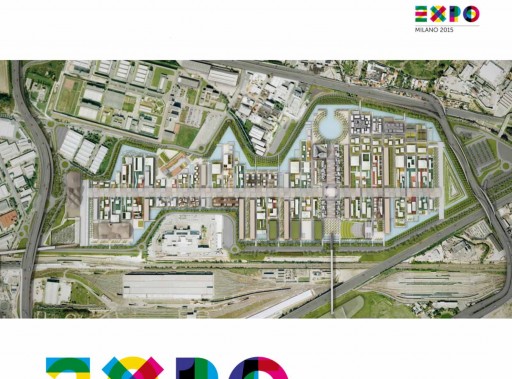 – The Expo site is located just a few km from the centre of Milan, it is easily reached by local, regional, and international travellers.
– The Exhibition site can be reached by Metro, Rail, Bus, Auto, and Taxi.
– The site layout reproduces the structure of ancient Roman cities, based on an orthogonal grid anchored by 2 principal axes: the DECUMANUS, and the CARDO.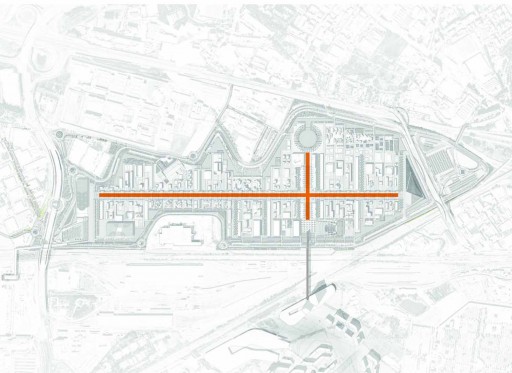 – The Decumanus, east-west orientation, is 1,5km long and approximately 35m wide. The pavilions of participating countries will be situated along its entire length.
– The Cardo, north-south direction, is 350m long, Italy's exhibition areas will be situated along its length.
– The Decumanus and the Cardo intersect at the symbolic heart of the Expo Milano: the Piazza Italia, the meeting point between Italy and the World.
– The Decumanus and the Cardo are both covered by a canopy system.
– The Canal, a symbolic element in the Expo and for Milan canals, surrounds the exhibition site. It gets its water from the Villoresi Canal.
– The Canal is 4,5km long, and is 4,5m width at its narrowest point. Its depth ranges from 30 to 70 cm.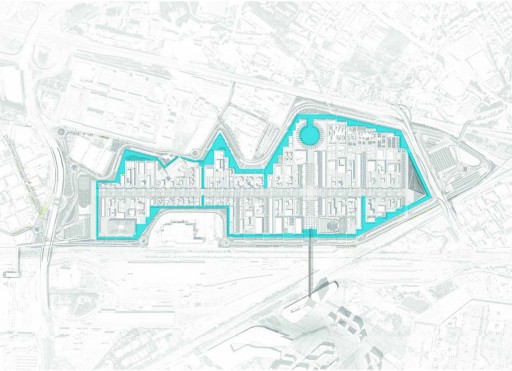 – Green Spaces: all around the exhibition site occupying approximately 80.000 square meters. Among its function is to create a filter (also visual) for noise and pollution.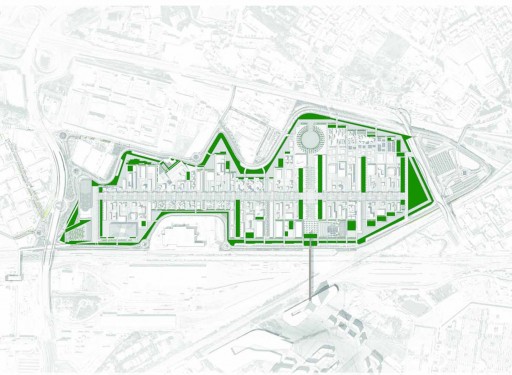 – Access: two pedestrian bridges: The Expo – Fiera bridge, approximately 730m long and 11m wide; and The Expo – Cascina Merlata bridge, 350m long, it will be used primarily by the Expo staff.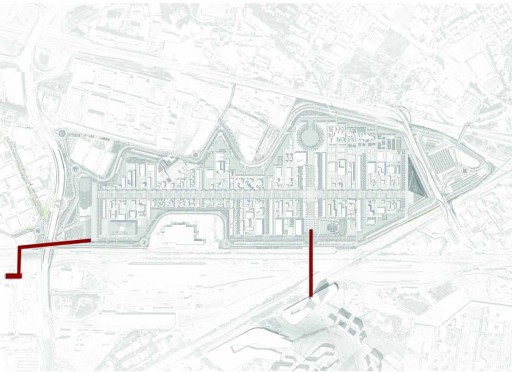 – Events spaces: The Expo Centre for indoor events for 1500 seated person; The Open Air Theatre for approximately 10000 people; The Lake Arena is an open air space for approximately 20000 people.
– Service areas: cafes, restaurants, bathrooms, commercial spaces, and all other facilities that visitors might need to have a pleasant and comfortable visit.
– Countries Pavilions: will be located on both sides of the Decumanus, approximately 150,000 square meters. All countries will have a front-row position, an innovative future of Expo Milano.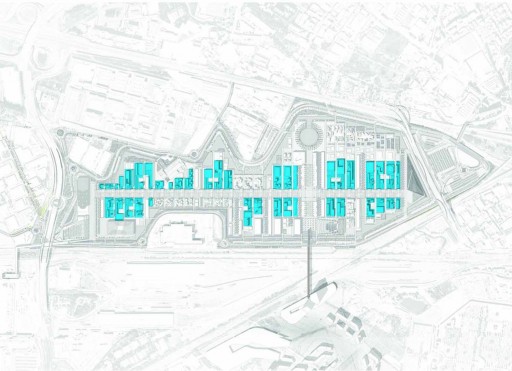 – Italian Presence: it will be developed along the Cardo: it includes the Palazzo Italia for official and ceremonial functions; 4 buildings for the exhibition venues, two on each side of the Cardo; and Piazza Italia, the intersection between the site two main avenues.
– Clusters Pavilions: an innovation of Expo Milano, they are shared spaces for countries working on a common theme. There will be nine clusters.
– Thematic areas: there will be 4 thematic areas: Pavilion Zero, Children's Park, Future Food District, and Biodiversity Park. The organizers will present their own interpretation of the expo Theme.
– Corporate areas: where private enterprises will contribute to the development of the expo theme and present their own best practices.
– The Cascina Triulza: it is an old farm, typical of the historical agriculture system of Lombardy, it will be renovated to host exhibitions and events.
– The construction work started on October 2011 and will be concluded on April 2015.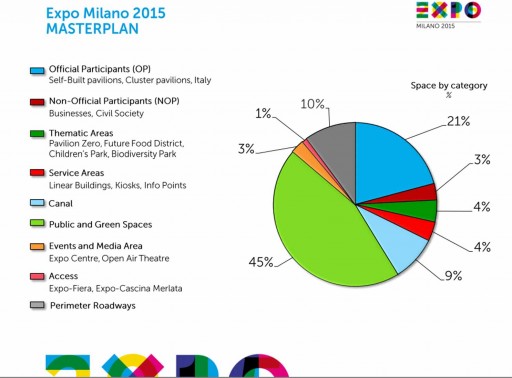 Photos: © expo2015.org