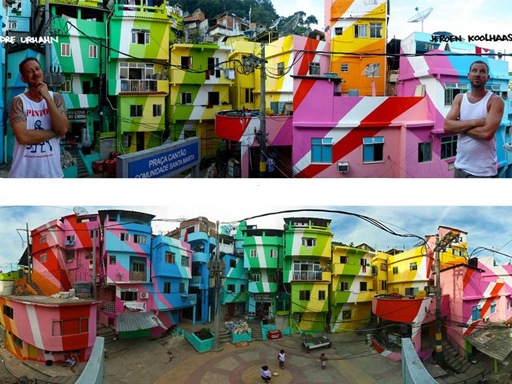 When a blighted city needs transformation, it's usually a bulldozer rather than a brush that does the work.
Few years ago, Edi Rama, Tirana's mayor at the time, started in a creative way to paint the sad facades of the buildings built during communism.  But what did the two Dutch artists, Jeroen Koolhaas and Dre Urhahn, went gone further.
The project is certainly not recent, but it's always worth to mention the fantastic idea of a slum redevelopment in an artistic and creative way.
With Favela Painting they have given a new look to the favela of Santa Marta: 34 buildings and 7.000 square feet of space have been transformed into a work of art. And to do that what did they thought about? They called the local people to paint their neighborhood, what they could do after completing a training course. The rate of participation was very high. After finishing the job in Santa Marta, and thanks to the professional title of painter acquired, many have been able to find a job.
httpv://www.youtube.com/watch?v=l0yvyVKFNAo&feature=player_embedded
The two artists end up together in Rio since 2005 to film a documentary on hip-hop movement in the city for MTV. Conquered the place, they decided to stop, and began to paint their first huge murals in the slums of the city, involving young people residing in this activity.
In an interview with CNN Urhahn and Kolhaas explained: "We wanted to help make a positive way both people and the environment, bringing character to a place and giving a little degraded to the people of dignity".
The goals of the project are manifold: to provide local people opportunities to become skilled workers; to give the community a source of pride; to call in a positive and artistic way the media and the authorities attention on the precarious situation of the favelas.
Colour in architecture can operate on a transformation that changes the qualities of the environment and buildings. If colour can transform architecture, it can transform our space, simply through paint and light. The opportunities for renewal are ecological, and most importantly available to all.
Images: Courtesy of  Firmeza Foundation